Farewell Angelina - NEW DATE
Oct. 30 at 8:00pm
Tickets: $45 (price shown does not include fees)
Buy Tickets Online or call 740.345.5483
For more info about ticketing, theatre conduct, etc. please visit our FAQ.
Read our policy regarding ticket brokers and scalpers here.
PLEASE TAKE NOTE OF THE FOLLOWING!
-Your current ticket with the old date will be honored, so please keep it.
-If you need to exchange your tickets, we completely understand. Please do so by April 30, 2020 at 3:00pm. Refunds will NOT be issued after this date.
If you have any questions, please feel free to contact our Box Office at 740.345.5483 or at ticketagent2@midlandtheatre.org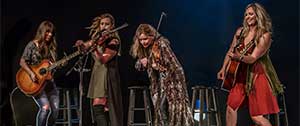 Named after a haunting Bob Dylan song, Farewell Angelina is an all-female country group with four powerhouse vocalists, dynamic songwriters and accomplished multi-instrumentalists. Their stellar blend of heart-stopping harmonies over blazing double violins and guitars has earned soaring praise across the board. Roughstock calls them a "Superstar Act... with Killer Songs." Rolling Stone says, "Wickedly smart songwriting delivered with a healthy dash of sass... deft playing... into one sonic knockout punch."
A band of longtime friends, Nicole Witt, Andrea Young, Lisa Torres & Ashley Gearing all met pursuing their dreams in Nashville, TN. Each deeply respected and admired one another while they were building successful solo careers, touring and recording with top artists, and writing songs for some of Country Music's biggest hitmakers. When they heard the undeniable magic of their voices together for the first time, they couldn't wait to take their show on the road. Major opportunities soon followed including singing the National Anthem for Thursday Night Football, The Unbridled Eve Gala for the Kentucky Derby, the ACM All-Star Jam, and festivals in Switzerland, Norway, Spain and France.
We are frequently adding great programming, doing ticket giveaways and much more, so stay connected with us!
Without the generosity of The Midland Theatre family and friends, we would not be what we are today. There are a number of ways you can be a part of something very special here at The Midland Theatre.