The Greatest Love of All:
A Tribute to Whitney Houston starring Belinda Davids
Not associated with the Estate of Whitney Houston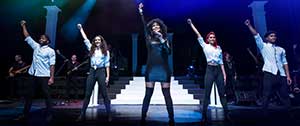 Belinda Davids was born in Port Elizabeth, South Africa, and began performing professionally at the age of 14. She has never had vocal training and is blessed with a 4 octave vocal range, and hence the ability to sing any genre. Her musical heart has always been R&B; Belinda's inspirations as a child were Aretha Franklin, Anita Baker, Chaka Khan, Donny Hathaway, Michael Jackson and the one artist whom she still, to this day, honours in every show she performs – Whitney Houston.
As a young girl one of the very first LP's Davids ever owned was a song called "Hold Me" by Teddy Pendergrass and Whitney Houston. The quality and style Whitney portrayed in this song struck a cord and Davids' fascination with the icon grew. She sang Whitney's music at every chance: at family gatherings, talent competitions and to friends whilst playing on the street. Like many young girls at that time her bedroom walls were plastered with posters and magazine cut-outs of the icon. Whitney's influence was so strong it inspired everything from her dress sense to her hairstyles.
As a young woman Belinda had the burning desire to live out her dreams and follow in her idols footsteps. She took on the club circuit and her performances left many people amazed at how similar she sounded to the icon.
In the mid 90's Belinda caught the eye of record executives at Tusk Records, which spawned the album "Belinda Davids". Three of the songs on this album, which Belinda wrote, were released as singles: "This I Swear", "This Is My Life" and "We Go Together". The latter was number one for six weeks in South Africa.
Davids promoted her album all over South Africa for a number of years at various hotels, clubs & cabarets. She opened shows for many international acts when they visited South Africa including Michael Jackson's History Tour, The Manhattans, The Temptations and Peaches and Herbs. Years after her debut album Davids decided to travel abroad to expand her musical career, which took her to Dubai, London and Hong Kong to perform in major hotels and clubs, with renowned success.
Whilst performing "I Will Always Love You" at a hotel in Hong Kong she was requested by the audience to sing acapella as they thought she was lip-syncing to the original Whitney Houston song, after which she received a standing ovation.
We are frequently adding great programming, doing ticket giveaways and much more, so stay connected with us!
Without the generosity of The Midland Theatre family and friends, we would not be what we are today. There are a number of ways you can be a part of something very special here at The Midland Theatre.
Kroger Rewards
Kroger will donate to The Midland Theatre every time you use your Kroger Plus Card!
Annual Fund Donation
Become an Annual Fund Member of $100 or more and gain ticket access before the public.
Amazon
Shop on Amazon.com using this link and Amazon will make a donation to The Midland Theatre.