Jenn Grinels
Stage Door Cabaret Series sponsored by Huntington Bank
May 28, 2021 at 8:00pm
The rescheduled concert ticket will be honored. We will not re-issue tickets with the new date and time!
Tickets: $33 (price shown does not include fees)
Tickets are only available through the Box Office or by calling 740.345.5483. There are no online sales for this performance.
For more info about ticketing, theatre conduct, etc. please visit our FAQ.
Read our policy regarding ticket brokers and scalpers here.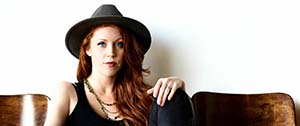 Award-winning musician Jenn Grinels is a dynamic songwriter, powerhouse vocalist and all-round entertainer that will absolutely dazzle you.
Jenn Grinels has spent the last ten years playing nearly 1500 concerts all over the world. Last year the rising star spent time on the road headlining concerts on both coasts, supporting artists like Marc Broussard and Edwin McCain, and opening for famed band 10,000 Maniacs, at one point prompting San Francisco Examinerreviewer Kenneth Fish to write, "Grinels steals the show. She is a rock and roll temptress conjuring musical spells that no one could resist. Whether quietly purring into the microphone or seriously belting out a tune, the audience was hanging on every note and lapping up every well crafted phrase. (She) has the rare gift of being a well-rounded performer who engages the audience fully and openly, sharing the performer as much as the performance. And her performance was nothing short of amazing."
The self-described "soulful, bluesy, jazzy, folk rock artist" has released three critically acclaimed full-length albums, built a loyal fan base all over the world and won numerous awards for her electrifying live performances. Recently Grinels returned what she calls a 6 month "album sabbatical", taking time off the road for the first time in ten years to focus on writing music. This experience was made possible with the incredible support of her fans via Patreon.com, a digital platform that facilitates patronage.
We are frequently adding great programming, doing ticket giveaways and much more, so stay connected with us!
Without the generosity of The Midland Theatre family and friends, we would not be what we are today. There are a number of ways you can be a part of something very special here at The Midland Theatre.