Tracy Lawrence
Opener: Jacob Powell
October 5 at 8:00pm
Tickets: $60-$30 (price does not include fees)
Buy Tickets Online or call 740.345.5483

Please note, tickets purchased out of state will be held in Will Call for pick up.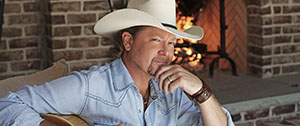 By nearly every metric, Tracy Lawrence is a mega-watt success story. Thirteen million albums sold. A collection of No. 1 singles. Twenty-two songs on the Billboard Top 10 charts. A slew of CMA and ACM awards. Even a Grammy nomination. Yes, the smalltown Arkansas-bred teenager who arrived in Nashville nearly three decades ago with a guitar and $700 in his pocket has done himself proud. Don't remind him, though.
Because despite it all, the "Sticks and Stones" icon has always felt it important to maintain a steadfast workmanlike approach to and sheer reverence for his craft. "I still see myself as that kid that came to town and idolized Merle Haggard and George Strait," Lawrence, who is currently in the studio working on a new album due out later this year, says with a sense of wonder in his voice. "If you're a lawyer you put your suit on every day and you go to work. I go to work. I put my uniform on and I go do my job. I've been blessed." In recent years, however, the scope and diversity of Lawrence's job has evolved in thrilling ways. Just over two years since it first launched in January 2015, the country icon's syndicated country-music radio show, "Honky Tonkin' With Tracy Lawrence," has fast become one the genre's most cherished. Lawrence, who earlier this year was nominated for National On-Air Personality of the Year at the Academy of Country Music Radio Awards in Las Vegas, says the three-hour weekly program (syndicated in 60 markets) was born out of his sensing a lack of attention being paid to country music of the 80s, 90s and early-2000s. "I just felt there was such a void in the market because there really wasn't anybody focusing on the music from my era," he explains. "The industry had missed the fact that so many people — and not just the people that had grown up with us, but their kids and younger people too — are getting into it now." "I've been able to get things out of some of these interviews that maybe other people haven't been able to do before," he says of revealing chats with everyone from Reba McEntire toJohn Anderson to Sammy Kershaw and Ronnie McDowell. "It's got a comfort to it that people enjoy."
Still, the singer-songwriter knows if he stopped today he'd already have cemented his place in the pantheon of country-music greats. "To realize that I'm older now and being looked at by younger kids in the same light as I looked at guys like Strait and Haggard, it's very flattering," he notes. "To know that I've made music that's had that kind of impact on people, well, it's pretty cool."
About Jocob Powell
Hailing from a small town in Tennessee, Jacob Powell's vocals instantly capture your attention with his soulful sincerity. His honest approach to songwriting has already caught the ears of some Nashville's premier talent. After being in Nashville for only a short time Jacob signed with SONY/ATV and announced his "Put It in a Koozie Tour". The year 2013 was a career breaking year for the young artist who recently premiered his first video "Koozie" in early September 2013 and had his first EP released on Sony/ATV. Most recently Jacob has been out headlining his own "Put It In A Kooize" tour along with supporting such acts as Travis Tritt, Charlie Daniels Band, Chris Cagle, David Lee Murphy, Steel Magnolia, Don Williams and many more.
We are frequently adding great programming, doing ticket giveaways and much more, so stay connected with us!
Without the generosity of The Midland Theatre family and friends, we would not be what we are today. There are a number of ways you can be a part of something very special here at The Midland Theatre.
Kroger Rewards
Kroger will donate to The Midland Theatre every time you use your Kroger Plus Card!
Annual Fund Donation
Become an Annual Fund Member of $100 or more and gain ticket access before the public.
Amazon
Shop on Amazon.com using this link and Amazon will make a donation to The Midland Theatre.