We are frequently adding great programming, doing ticket giveaways and much more, so stay connected with us!
Without the generosity of The Midland Theatre family and friends, we would not be what we are today. There are a number of ways you can be a part of something very special here at The Midland Theatre.
Kroger Rewards
Kroger will donate to The Midland Theatre every time you use your Kroger Plus Card!
Annual Fund Donation
Become an Annual Fund Member of $100 or more and gain ticket access before the public.
Amazon
Shop on Amazon.com using this link and Amazon will make a donation to The Midland Theatre.
Liz Longley
Stage Door Cabaret Series sponsored by Huntington Bank
May 5, 2017 @ 8:00pm
Tickets: $33
Series tickets on Sale is June 27, 2016 at 9:00am **To Purchase Series Tickets, please call the Box Office.**
Single tickets on Sale is June 28, 2016 at 9:00am
Buy Tickets Online or call 740.345.5483
Please note, tickets purchased out of state will be held in Will Call for pick up.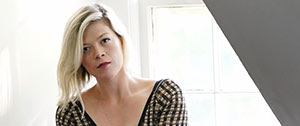 Longley confides with you as though you're sitting on the sofa with her in a talk that's intimate and vulnerable. And now, the Berklee College of Music graduate and award-winning songwriter is set to share her confessional songs with listeners on her self-titled album—her first after signing with Sugar Hill Records in December 2014.
While Longley's songs and vocals invite complimentary comparisons to Shawn Colvin, Paula Cole and Nanci Griffith—all artists she's supported live—her latest effort spotlights a style all her own. Her voice and tone, touched with the slightest of country inflections, pours out like clean, crystalline water.
Longley first felt the magic while growing up outside of Philadelphia. A song she wrote in ninth grade—her first ever—earned a standing ovation when she performed it for the student body: "I was unprepared for that sort of reaction and it was life-changing moment," she says. "That's when I knew it was what I wanted to do with my life."
The track record she's assembled since shows just how much Longley grew into her dream. She's taken home top prizes at some of the most prestigious songwriting competitions in the country, including the BMI John Lennon Songwriting Scholarship Competition, the International Acoustic Music Awards and the Rocky Mountain Folk Fest Songwriting Competition.
But it all traces straight back to Longley's first song. She says she'll continue to open her soul in the service of her art because that's what matters most to her. "Every time I get into these songs they resonate with me because they're based on something I went through," she says of the new collection. "I hope they connect with people and that they'll help with whatever they've gone through. That's what music does for me, and I hope I can do that for someone else."