Luminare
Christmas Music | Luminare pop rock symphonic music concert
December 9, 2022 at 800?pm
Tickets: $7-$32 *does not include fees
Annual Fund Pre-Sale: 10.11.22
Become an AF Member and get your tickets before the public by calling 740.345.5483.
Public Sale: 10.18.22
Buy Tickets Online or call 740.345.5483
For more info about ticketing, theatre conduct, etc. please visit our FAQ.
Read our policy regarding ticket brokers and scalpers here.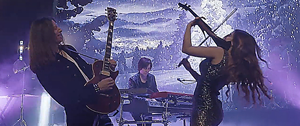 Drawing from his many years as keyboardist for Dennis DeYoung (of STYX fame) and lead keyboardist for Mannheim Steamroller, John Blasucci and Luminare have created a new and exciting musical experience that will take audiences on an unforgettable journey through the holiday season and beyond.
LUMINARE is made up of world class musicians whose international credits include Foreigner, Chicago, Camerata Strumetale Italiana, Orchestra Sinfonica del Conservatorio Guiseppe Tartini di Trieste, Rock of Ages, American idol, THE VOICE to name only a few.
Artist website: luminaremusic.com
We are frequently adding great programming, doing ticket giveaways and much more, so stay connected with us!
Without the generosity of The Midland Theatre family and friends, we would not be what we are today. There are a number of ways you can be a part of something very special here at The Midland Theatre.