MENOPAUSE THE MUSICAL®
February 23, 2023 at 7:00pm
Tickets: $45 - $55 *does not include fees
Buy Tickets Online or call 740.345.5483
For more info about ticketing, theatre conduct, etc. please visit our FAQ.
Read our policy regarding ticket brokers and scalpers here.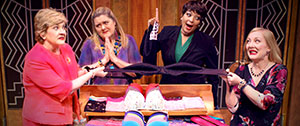 Set in a department store, four women meet while shopping for a black lace bra at a lingerie sale. After noticing similarities among one another, the cast jokes about their woeful hot flashes, mood swings, wrinkles, weight gain and much more. These women form a sisterhood and unique bond with the entire audience as they rejoice in celebrating that menopause is no longer "The Silent Passage."
Inspired by a hot flash and a bottle of wine, Menopause The Musical® was created as a celebration of women who find themselves at any stage of "The Change." The laughter-filled 90-minute production gets audience members out of their seats and singing along to parodies from classic pop songs of the '60s, '70s and '80s.
Menopause The Musical® is now in its 21st year and 17th as the longest - running musical in Las Vegas history. Seen by more than 15 million, it has played every state in the continental U.S. and more than 500 cities worldwide, and has been translated into nine languages. For more information, visit www.MenopauseTheMusical.com.
We are frequently adding great programming, doing ticket giveaways and much more, so stay connected with us!
Without the generosity of The Midland Theatre family and friends, we would not be what we are today. There are a number of ways you can be a part of something very special here at The Midland Theatre.