Pat Metheny Side-Eye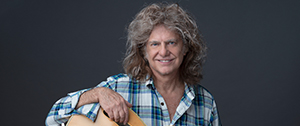 PAT METHENY was born in Lee's Summit, MO on August 12, 1954 into a musical family. Starting on trumpet at the age of 8, Metheny switched to guitar at age 12. By the age of 15, he was working regularly with the best jazz musicians in Kansas City, receiving valuable on-the bandstand experience at an unusually young age. Metheny first burst onto the international jazz scene in 1974. Over the course of his three-year stint with vibraphone great Gary Burton, the young Missouri native already displayed his soon-to-become trademarked playing style, which blended the loose and flexible articulation customarily reserved for horn players with an advanced rhythmic and harmonic sensibility -a way of playing and improvising that was modern in conception but grounded deeply in the jazz tradition of melody, swing, and the blues. With the release of his first album, Bright Size Life (1975), he reinvented the traditional "jazz guitar" sound for a new generation of players. Throughout his career, Pat Metheny has continued to redefine the genre by utilizing new technology and constantly working to evolve the improvisational and sonic potential of his instrument.
Metheny's versatility is nearly without peer on any instrument. Over the years, he has performed with artists as diverse as Steve Reich to Ornette Coleman to Herbie Hancock to Jim Hall to Milton Nascimento to David Bowie. Metheny's body of work includes compositions for solo guitar, small ensembles, electric and acoustic instruments, large orchestras, and ballet pieces and even the robotic instruments of his Orchestrion project, while always sidestepping the limits of any one genre.
We are frequently adding great programming, doing ticket giveaways and much more, so stay connected with us!
Without the generosity of The Midland Theatre family and friends, we would not be what we are today. There are a number of ways you can be a part of something very special here at The Midland Theatre.