The Midland Minute
April 2018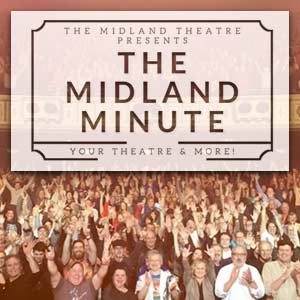 Welcome back to the Midland Minute! Last month we introduced this patron newsletter promising to keep you up-to-date with the happenings at the Theatre when the seats aren't filled for a concert. We are doing our best to answer some of the questions we are frequently asked, as well as introducing you to some familiar faces around the Midland.
Please let us know if you have any questions or suggestions for what you would like to see us talk about in this newsletter. We appreciate your feedback and hope to see you at an upcoming show!
Midland Moment
So That's How You Change The Bulbs....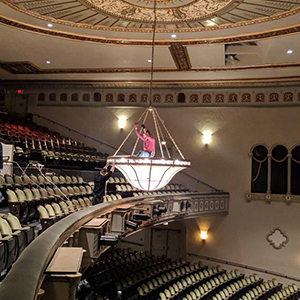 Teetering on the line between "stupid" and "brave" one of our crew members changed out the light bulbs in the chandelier earlier this month.
For those of you who were concerned, all safety measures were taken. The chandelier is supported by a massive motor able to move much more than the weight it is under. Additionally the chandelier was tied off with reinforcements. Jarod was wearing a safety harness and has many years of experience rigging and lighting events.
Chandelier facts:
The original chandelier did not survive the years of neglect leading up to the restoration
The chandelier is alabaster
It weighs 1,700 lbs.
It holds 51 light bulbs
Staff Spotlight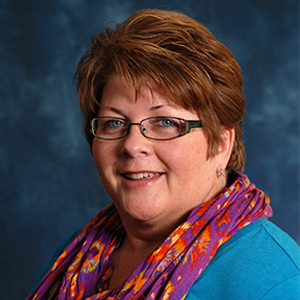 Executive Director,
Nancy Anderson
Nancy is a Newark native and graduate of Newark Catholic High School. She attended Prospect Hall School of Business in Hollywood, Florida and spent her young adult years traveling and working various jobs throughout the country having spent time in California, Georgia, Minnesota and Illinois. In 2001 a work opportunity for her husband relocated Nancy and her young family back to Newark. Needing to branch out of her full-time mom duties, Nancy began volunteering at The Midland Theatre in 2002. In 2004, she was hired as the Volunteer Coordinator and Administrative Manager and was promoted to Assistant Director in 2008 overseeing the day to day operations, education and outreach programs, special events, personnel and artist bookings. Nancy was named The Midland Theatre's Executive Director in 2012. Nancy is a member of the International Entertainment Buyers Assoc., Newark Rotary Club, serves on the board of Explore Licking County, and is a volunteer for the St. Vincent De Paul Society. When Nancy has free time, she enjoys listening to music, traveling, flower gardening and craft beer tasting with her now adult children!
Seat Spotlight
The Gutrdige Family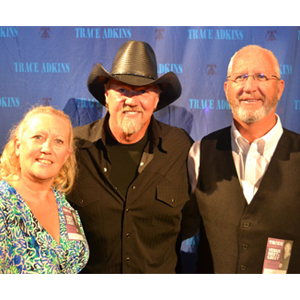 Name: Ralph and Sheri Gutridge
Job: Ralph – Lead Dispatcher at Englefield Oil; Sheri – Admin Assistant at MedBen
Home: Newark
Fav Midland Concert: Travis Tritt & Jerry Douglas (acoustic) – and many more! We have been attending concerts for over 10 years.
Fav Seat in the Theatre: Closest to the stage


If you could hang out with one musician for a day, who would it be?
Ralph – Blake Shelton Sheri – Steven Tyler
Why do you give to The Midland?
We are so fortunate to have such an amazing venue here in Newark, Ohio. The talent the Midland brings is great and we hope that people support The Midland Theatre so it doesn't go away. We are proud to donate every year and to be a part of a wonderful place that people, families and friends can come and enjoy.
Featured FAQ
Standing vs. Sitting
To stand or not to stand…that is the question. And the ongoing debate at Midland Theatre concerts. This is definitely our least favorite topic of discussion as Midland staff. Inevitably, the issue arises at a concert that some patrons want to stand to enjoy the concert and others want to sit and they do not want their view obscured. So, what should be done? Both patrons paid the same amount for their tickets. They are enjoying the music in their own way, but someone has to be wrong – don't they?
It's a very hard call for the theatre to have to make. Many times, the majority of the crowd makes the decision. If everyone is on their feet enjoying the show, you might want to consider doing the same. If everyone is seated and you are the only one enjoying the concert by standing, then it is best to respect the majority and sit, or stand in the back of the theatre or in one of the side aisles to dance. If you purchase tickets to a rock or contemporary country concert, there is a good chance that people are going to be standing and enthusiastic about the show. If you have come to enjoy a bluegrass or classical artists, it is more likely that people are going to remain seated for the duration.
We ask that patrons try to remember that everyone enjoys music in their own way and there is not one correct way to do it – even for our venue. Just respect those around you. If you feel that you cannot do that and enjoy the concert at the same time, ask to speak to a staff member and we will do our best to accommodate your needs.
On The Horizon
We often hear people say, "I watched movies here when I was a kid!" Now they have a chance to relive experiences past, and a whole new generation will have the opportunity to see these classic films on the big screen. We will be presenting a series called "Friday Flicks" sponsored by The Licking County Senior Levy featuring 3 fabulous classic films. The films will be shown at 2:00pm and 7:00pm, and tickets are free to Licking County adults 60 and up, $6 for adults and $5 for students. We hope you enjoy this amazing collection of classics...they don't make films like this anymore. No food or drink is permitted in the theatre. For details about Friday Flicks, click here.
Mr. Smith Goes To Washington - June 29
A League of Their Own - July 27
Remember The Titans - August 31
We are frequently adding great programming, doing ticket giveaways and much more, so stay connected with us!
Without the generosity of The Midland Theatre family and friends, we would not be what we are today. There are a number of ways you can be a part of something very special here at The Midland Theatre.
Kroger Rewards
Kroger will donate to The Midland Theatre every time you use your Kroger Plus Card!
Annual Fund Donation
Become an Annual Fund Member of $100 or more and gain ticket access before the public.
Amazon
Shop on Amazon.com using this link and Amazon will make a donation to The Midland Theatre.