The Oak Ridge Boys - Elvira 40
October 22, 2021 at 8:00pm
Tickets: $68-$48 (price shown does not include fees)
Buy Tickets Online or call 740.345.5483
For more info about ticketing, theatre conduct, etc. please visit our FAQ.
Read our policy regarding ticket brokers and scalpers here.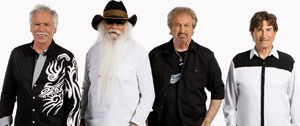 Theirs is one of the most distinctive and recognizable sounds in the music industry. The four-part harmonies and upbeat songs of The Oak Ridge Boys have spawned dozens of Country hits and a Number One Pop smash, earned them Grammy, Dove, CMA, and ACM awards and garnered a host of other industry and fan accolades. Every time they step before an audience, the Oaks bring four decades of charted singles, and 50 years of tradition, to a stage show widely acknowledged as among the most exciting anywhere. And each remains as enthusiastic about the process as they have ever been.
"I feel like I can do what I do on stage just as good now as I could 20 years ago," says Bonsall. "I plan to be rockin' my tail off out there as long as I'm healthy. The people who come out, who bring their families to see us, deserve everything I've got."
"We've experienced a lot of longevity," adds Sterban. "I think the reason is the love we have for what we do—the desire, the longing to actually get up there and do it. We love to sing together…to harmonize together. It's what our lives are all about."
We are frequently adding great programming, doing ticket giveaways and much more, so stay connected with us!
Without the generosity of The Midland Theatre family and friends, we would not be what we are today. There are a number of ways you can be a part of something very special here at The Midland Theatre.