Our Planet Live in Concert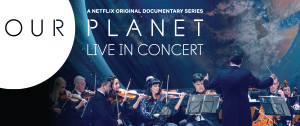 The landmark eight-part Our Planet Netflix documentary series has been reimagined as a two-hour live show filled with beautiful visuals and sound effects, all accompanied by a live, onstage orchestra.
OUR PLANET LIVE IN CONCERT brings the incredible cinematography of OUR PLANET to the big screen, encouraging audiences of all ages to explore the wonders of earth's wildlife and their habitats.
Renowned naturalist David Attenborough and legendary actor William Shatner narrate a sweeping tour of Earth's natural diversity and explores how climate change is affecting different species' efforts to survive. From the frozen Arctic tundra to the lush rainforest to the vast African deserts, this production from the creators of Planet Earth celebrates the marvels of nature, the interconnectedness of animal species, and the responsibilities and hazards of a growing human population's effect on the planet.
OUR PLANET LIVE IN CONCERT brings the beauty of the planet we call home right to your seat. For more information, visit www.ourplanetinconcert.com.
We are frequently adding great programming, doing ticket giveaways and much more, so stay connected with us!
Without the generosity of The Midland Theatre family and friends, we would not be what we are today. There are a number of ways you can be a part of something very special here at The Midland Theatre.