Our Planet Live in Concert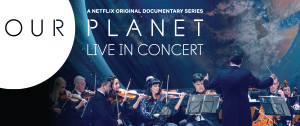 The Emmy Award®-winning Netflix documentary OUR PLANET LIVE IN CONCERT has been reimagined as a live experience, combining highlights from the series with brand-new orchestrations and sequences to create an immersive journey across our planet for audiences of all ages.
Specially developed by the series producers WWF, Silverback Films and Oscar®-winning composer Steven Price, Our Planet Live in Concert is co-narrated on screen by legendary broadcaster David Attenborough and Emmy® Award-winning actor William Shatner.
Prepare to be mesmerized as the landmark eight-part Our Planet documentary series becomes a two-hour live show filled with beautiful visuals and sound effects, all accompanied by an orchestra. The show brings the incredible cinematography of Our Planet to the big screen, encouraging audiences to explore the wonders of earth's wildlife and their habitats. Dazzling, intelligent lighting enhances the visual experience beyond the screen, bringing the beauty of the planet we call home right to your seat.
Composer Steven Price's Emmy-nominated score has been reworked for an epic two-hour performance, which will be performed by the Newark-Granville Symphony Orchestra. The Academy Award®-winning composer states, "I can't wait for the audience to experience the music of Our Planet live. Using a combination of the most memorable sequences from the Netflix series exclusively designed for this show, the incredible musicians plan to take you on a journey that celebrates the wonders of our planet - the one home we all share - whilst showing the urgent need to treasure and protect it."
For more information, visit www.ourplanetinconcert.com.
We are frequently adding great programming, doing ticket giveaways and much more, so stay connected with us!
Without the generosity of The Midland Theatre family and friends, we would not be what we are today. There are a number of ways you can be a part of something very special here at The Midland Theatre.