Lightwire Theater
Dino-Light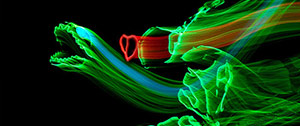 DINO-LIGHT, formerly known as Darwin the Dinosaur, was the recipient of the prestigious Jim Henson Foundation Grant and is the first feature-length theatrical production created and performed by creators Ian Carney and Corbin Popp.
Read more.
Get The Led Out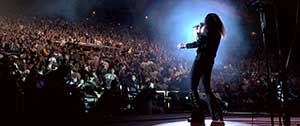 From the bombastic and epic, to the folky and mystical, Get The Led Out (GTLO) have captured the essence of the recorded music of Led Zeppelin and brought it to the concert stage. The Philadelphia-based group consists of six veteran musicians intent on delivering Led Zeppelin live, like you've never heard before. Utilizing the multi-instrumentalists at their disposal, GTLO re-create the songs in all their depth and glory with the studio overdubs that Zeppelin themselves never performed. When you hear three guitars on the album…
Read more.
Family Flicks - Monsters, Inc.
Sponsored by Wing, Mack, Smith & Bang D.D.S.

Monsters Incorporated is the largest scare factory in the monster world, and James P. Sullivan (John Goodman) is one of its top scarers. Sullivan is a huge, intimidating monster with blue fur, large purple spots and horns. His scare assistant, best friend and roommate is Mike...
Read more.




Dennis DeYoung

The Grand Illusion 40th Anniversary Tour

In 1977, history was made upon the release of THE GRAND ILLUSION album. DENNIS DEYOUNG AND THE MUSIC OF STYX celebrate that history by performing the album in its entirety plus all eight Top Ten hits LADY, BABE, COME SAIL AWAY, TOO MUCH TIME ON MY HANDS, BEST OF TIMES, MR. ROBOTO plus classic rock anthems RENEGADE, BLUE COLLAR MAN, SUITE MADAME BLUE and many more.
Read more.




I Am, He Said

Celebrating the Music of Neil Diamond

A Celebration of the Music of Neil Diamond - Starring Matt Vee, nephew of 60's Pop-Star Bobby Vee - This show will leave you wanting MORE! All of Neil's hits done with the utmost authenticity and respect. No glitzy Vegas BS! The show also features many intimate moments and stories of Neil's life, and a very touching nod to the their father and uncle Bobby Vee will leave you breathless!
Read more.




Family Flicks - Babe
We are frequently adding great programming, doing ticket giveaways and much more, so stay connected with us!
Without the generosity of The Midland Theatre family and friends, we would not be what we are today. There are a number of ways you can be a part of something very special here at The Midland Theatre.
Kroger Rewards
Kroger will donate to The Midland Theatre every time you use your Kroger Plus Card!
Annual Fund Donation
Become an Annual Fund Member of $100 or more and gain ticket access before the public.
Amazon
Shop on Amazon.com using this link and Amazon will make a donation to The Midland Theatre.