An Evening with Darrell Waltrip - NEW DATE
September 20 at 4:00pm
Tickets: $49-$25 (price shown does not include fees)
VIP Meet 'n Greet Package: $100
Buy Tickets Online or call 740.345.5483
For more info about ticketing, theatre conduct, etc. please visit our FAQ.
Read our policy regarding ticket brokers and scalpers here.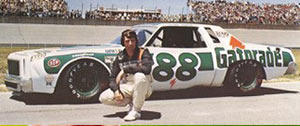 VIP Package Details:
-Pre-Show VIP Reception
-One premium reserved ticket
-Photo
-Autographed Show Photo
Starting his driving career in go-karts at age 12, Darrell Waltrip entered his first stock car race just four short years later. Waltrip and his father built a 1936 Chevrolet coupe and headed to a local dirt track near their Owensboro, Ky., home. The first night out was far from a success as the youngster, barely old enough to drive on the street, slammed the wall and heavily damaged the coupe. Waltrip soon left the dirt and found his niche on pavement where the smoothness he learned in the karts proved a valuable asset. His racing activities continued to increase and by the late 1960s Waltrip had become a regular at the fairgrounds track in Nashville, Tenn.
Waltrip quickly developed into one of the nation's top short-track drivers and made his first NASCAR Winston Cup start in 1972 at Alabama's Talladega Superspeedway. He continued to make sporadic NASCAR starts while earning a living as a barnstorming short-track racer. Finally in 1975, Waltrip decided it was time to become a full-time NASCAR Winston Cup competitor.
He recalled: "Wherever I would go, I was almost assured I was going to win one or two races a week and I made a good living doing that. It was difficult to step to the big leagues and be just another fish in a big pond. So it took some time for me to make up my mind that I needed to get in there, give it 100 percent and make my mark." And the rest is history.
Miscellaneous Records and Statistics
84 NASCAR Winston Cup victories: tied for fourth with Bobby Allison on all-time list.
37 Superspeedway victories: seventh on all-time list.
59 Winston Cup poles: fourth on all-time list.
23 Superspeedway poles: tied for sixth with Bobby Allison on all-time list.
Won 1989 Daytona 500.
Only driver to win $500,000 or more in a season 18 times.
Only 5-time winner of the Coca-Cola 600 (1978, 1979, 1985, 1988 and 1989) at Charlotte Motor Speedway.
Won inaugural The Winston at Charlotte in 1985.
Won modern era record of 8 races from pole in 1981; tied all-time record of 4 straight.
Won 7 of 10 short track races in 1982; shares record.
Won 1981 Busch Clash.
First Winston Cup driver to earn $10 million (Feb. 18, 1990).
We are frequently adding great programming, doing ticket giveaways and much more, so stay connected with us!
Without the generosity of The Midland Theatre family and friends, we would not be what we are today. There are a number of ways you can be a part of something very special here at The Midland Theatre.