The Impact of COVID-19 on The Midland Theatre
The Midland Theatre considers the health and well-being of patrons, artists, volunteers, and staff our highest priority. We are continuing to closely monitor and evaluate developments of the coronavirus (COVID-19).
Box Office
For the safety of our staff and after taking the direction of the CDC and Licking County Health Department into consideration, we are not allowing guests in to the Box Office to purchase and exchange tickets. We realize this may be an inconvenience, but we we feel it is a necessary precaution to take. You may still contact the Box Office at 740.345.5483 or ticketagent2@midlandtheatre.org for assistance, Monday through Friday between 9:00am - 4:00pm.
What to do with your tickets
Options if you have tickets to a rescheduled, postponed, or canceled event.
Wait. If your event is listed as "postponed" or "suspended," you can hold onto your ticket until new information is available. If the performance is able to be rescheduled, you will receive an email announcing the new date. If the rescheduled date doesn't work for you, you may request a refund or choose to donate your tickets at that time.
Donate your ticket. If your event is canceled or the rescheduled date doesn't work for you, please consider donating your ticket back to The Midland Theatre. Your generosity will help us through this difficult time. Please contact The Box Office at 740.345.5483 or ticketagent2@midlandtheatre.org to donate.
Get a refund. If your event was rescheduled but you are unable to attend, we are happy to issue a refund (The refund deadline is show specific. Please see your event for details.). Please contact The Box Office at 740.345.5483 or ticketagent2@midlandtheatre.org for a refund.
Please note that we cannot refund tickets purchased through third party resellers, ticket brokers, or other outside entities.
If you need assistance with any other ticketing needs, please contact us at 740.345.5483 or ticketagent2@midlandtheatre.org.
Support Us
Our commitment to providing you with a great theatre experience is matched only by our commitment to the health and safety of our patrons, employees, artists, and volunteers. As we all come together to help stop the spread of this virus, please consider supporting The Midland Theatre. Your donations help The Midland Theatre maintain our beautiful historic venue, serve the local arts community, and engage thousands of students each year in performing arts experiences. With your help, The Midland Theatre will be in a position to come back stronger than ever when we are able to reopen our doors and welcome you back.
Stay healthy and we look forward to seeing you again soon!
Shows Impacted by COVID-19
PLEASE TAKE NOTE OF THE FOLLOWING!
-The rescheduled concert ticket will be honored. We will not re-issue tickets with the new date and time!
If you have any questions, please feel free to contact our Box Office at 740.345.5483 or at ticketagent2@midlandtheatre.org
David Francey - POSTPONED
Stage Door Cabaret Series sponsored by Huntington Bank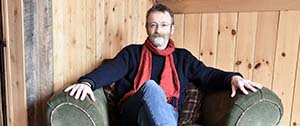 Francey is a Scottish-born Canadian carpenter-turned-songwriter, who has become known as "one of Canada's most revered folk poets and singers." In concert, his wry humor and openhearted singing style have earned him a loyal following.
Read more.
Gin Blossoms - NEW DATE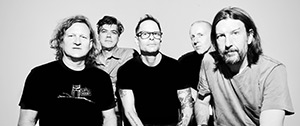 Gin Blossoms released its debut album, Dusted, on a small Tucson-based independent label. The album included two Doug Hopkins-penned songs, "Found Out About You" and "Hey Jealousy." The band gigged regionally in support of the album; live shows of that era showcased the young group's versatility and strength in songwriting, musicianship and vocals.
Read more.
Trace Adkins - NEW DATE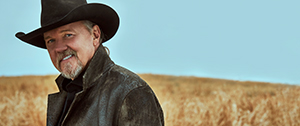 A Nashville icon for more than two decades, Trace Adkins has made his mark on the country-music industry. 11 million albums sold. Time-honored hit singles. Momentous, fiery and always memorable live performances. GRAMMY nominations. CMT and ACM awards. Nearly 200 million plays on YouTube. Hell, even a slew of movie and TV roles have come the Grand Ole Opry member's way. But ask Adkins what's left to prove in his career and the small-town Louisiana native says it's simple: the itch remains. To create.
Read more.
An Evening with Darrell Waltrip - NEW DATE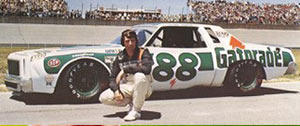 All three of Waltrip's titles (1981-82, 1985) came while driving for Junior Johnson. In addition to his wins and championships, he won 59 poles, good for 4th on the all-time list. Waltrip was named Driver Of The Year three times (1979, 1981, and 1982), and was chosen the Driver of the Decade for the 1980s. When the brash Waltrip burst onto the scene in the mid 1970s, the award he was least likely to win was Most Popular Driver, yet he overcame the early impressions and won it twice, in 1989 and in 1990. In 2000, he was named one of NASCAR's 50 Greatest Drivers.
Read more.
An Evening with Air Supply - NEW DATE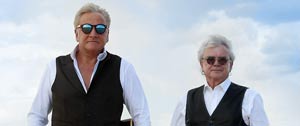 In 1980, "Lost in Love" became the fastest selling single in the world, leaping to the top of all of the charts. Now Air Supply was on their way. The second single was "All Out of Love," and that went up the charts even quicker. Seven top-five singles later, Air Supply at that time had equaled The Beatles' run of consecutive top five singles. The albums Lost in Love, The One That You Love, Now & Forever, and The Greatest Hits sold in excess of 20 million copies. "Lost in Love" was named Song of the Year in 1980, and, with the other singles, sold more than 10 million copies.
Read more.
I Am, He Said
Celebration of Neil Diamond starring Matt Vee
NEW DATE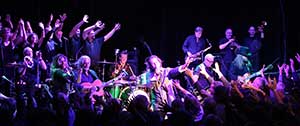 A Celebration of the Music of Neil Diamond - Starring Matt Vee, nephew of 60's Pop-Star Bobby Vee - This show will leave you wanting MORE! All of Neil's hits done with the utmost authenticity and respect. No glitzy Vegas BS! The show also features many intimate moments and stories of Neil's life, and a very touching nod to the their father and uncle Bobby Vee will leave you breathless!
Read more.
We are frequently adding great programming, doing ticket giveaways and much more, so stay connected with us!
Without the generosity of The Midland Theatre family and friends, we would not be what we are today. There are a number of ways you can be a part of something very special here at The Midland Theatre.
Kroger Rewards
Kroger will donate to The Midland Theatre every time you use your Kroger Plus Card!
Annual Fund Donation
Become an Annual Fund Member of $100 or more and gain ticket access before the public.
Amazon
Shop on Amazon.com using this link and Amazon will make a donation to The Midland Theatre.