We are frequently adding great programming, doing ticket giveaways and much more, so stay connected with us!
Without the generosity of The Midland Theatre family and friends, we would not be what we are today. There are a number of ways you can be a part of something very special here at The Midland Theatre.
Kroger Rewards
Kroger will donate to The Midland Theatre every time you use your Kroger Plus Card!
Annual Fund Donation
Become an Annual Fund Member of $100 or more and gain ticket access before the public.
Amazon
Shop on Amazon.com using this link and Amazon will make a donation to The Midland Theatre.
Elden Kelly
Stage Door Cabaret Series sponsored by Huntington Bank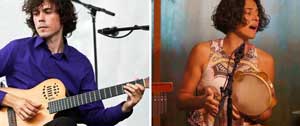 Young guitar virtuoso Elden Kelly teams up with fiery percussionist Carolyn Koebel to create an exciting array of rhythms and sound. Their exciting and impressive show features Elden Kelly and his mind blowing performances on the guitar, but audiences will also be delighted to witness his vocal skills on his own compositions and various instruments including the Turkish cumbus and the Glissentar, an 11-string fretless guitar. Elden will be joined by hand percussionist Carolyn Koebel and she will bring her own arsenal of drums and gadgets.
Click here to read more.
Megan Elk
Stage Door Cabaret Series sponsored by Huntington Bank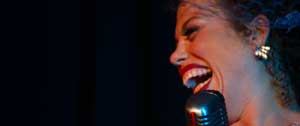 Miss Alexandra Huntingdon is the nom de plume of dynamic singer, songwriter, and performance-artist, Megan Elk. Her jazz and blues drenched original songs call to mind the early 20th century, while the scathingly subversive content of her lyricism is entirely modern day. Ever the show-woman, Miss Huntingdon's performances are noted for her passion for both grand avant-garde couture and audience participation.
Click here to read more.
Liz Longley
Stage Door Cabaret Series sponsored by Huntington Bank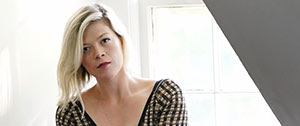 Longley confides with you as though you're sitting on the sofa with her in a talk that's intimate and vulnerable. And now, the Berklee College of Music graduate and award-winning songwriter is set to share her confessional songs with listeners on her self-titled album—her first after signing with Sugar Hill Records in December 2014.While Longley's songs and vocals invite complimentary comparisons to Shawn Colvin, Paula Cole and Nanci Griffith—all artists she's supported live—her latest effort spotlights a style all her own. Her voice and tone, touched with the slightest of country inflections, pours out like clean, crystalline water.
Click here to read more.