We are frequently adding great programming, doing ticket giveaways and much more, so stay connected with us!
Without the generosity of The Midland Theatre family and friends, we would not be what we are today. There are a number of ways you can be a part of something very special here at The Midland Theatre.
Kroger Rewards
Kroger will donate to The Midland Theatre every time you use your Kroger Plus Card!
Annual Fund Donation
Become an Annual Fund Member of $100 or more and gain ticket access before the public.
Amazon
Shop on Amazon.com using this link and Amazon will make a donation to The Midland Theatre.
Rental of The Midland Theatre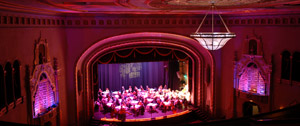 For your next event, think of The Midland Theatre!
If you are interested in renting The Midland Theatre call the box office at 740.345.5483.
Here are just a few things to consider before calling. If you don't know the answer at this time, that is not an issue.
Are you a non-profit?
How long will you require the venue?
Production needs? For example, would you like spotlights, or are you going to have a multimedia presentation?
Are you handling the ticketing for your event, or would you like The Midland Theatre to assist?
Would you like your event on The Midland Theatre's website or marquee?
Rental Fee Information
Rental rates for The Midland Theatre are dependant on several factors - the space(s) used, the length of time used and whether the renting organization has a 501(c)(3) nonprofit certificate.
In addition, certain charges may be levied for services required and rendered by The Midland Theatre staff, volunteers or contractors. Such charges may include, but may not be limited to, custodial, production personnel, equipment rental and box office services. You will be made aware of these charges prior to signing the final agreement.
Technical Specs
In-house lighting, audio & video are available upon request. Additional technical information may be provided after meeting The Midland Theatre Staff.
Lost and Found
If you've attended an event at The Midland Theatre and think you left something there, please contact the organization whose event you attended to retrieve your missing item before contacting The Midland Theatre.