We are frequently adding great programming, doing ticket giveaways and much more, so stay connected with us!
Without the generosity of The Midland Theatre family and friends, we would not be what we are today. There are a number of ways you can be a part of something very special here at The Midland Theatre.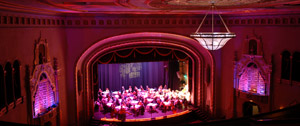 What's The Midland Theatre's physical address?
The Midland Theatre - 36 North Park Place - Newark, OH 43055
What's The Midland Theatre's mailing address?
The Midland Theatre - 36 North Park Place - PO Box 550 - Newark, OH 43058
Box Office and Ticketing
How do I buy tickets
Tickets can be purchased online through our secure website 24 hours a day. Our Box Office is also open Monday - Friday, 9:00 a.m. - 4:00 p.m. to sell you tickets in-person or over the phone at 740.345.5483. If a concert is held on a weekday, our Box Office stays open though the show, however, if a show is on a weekend, we will open two hours prior to a show to meet your needs.
What forms of payment do you accept?
We accept payment by American Express, Discover, MasterCard and Visa. You can also pay in cash at the box office. Sorry no checks.
Where can I find a seating chart?
A seating chart can be located here.
How do I request a refund?
Click here to read our refund, exchange, credit policy.
Do you offer group discounts?
A group of 20 or more may purchase a maximum of 75 tickets per event at a 10% discounted rate(some shows may not be eligible).
Why don't you mail tickets out of state?
Ticket brokers will buy tickets and mark them up sometimes 300% or more and take advantage of your guests.
Do you have a ticket broker policy?
We do. Please click here to read more. We reserve the right to choose to refund a ticket broker the face value of their tickets and cancel the transaction.
Why is there a ticket purchase limit?
This is in place to help deter ticket brokers from buying bulk tickets and overcharging our guests.
Do you sell gift certificates?
We offer gift certificates in the amount of your choosing. Please contact the Midland Theatre Box Office at 740.345.5483.
Do I need to buy a ticket for my child?
Children 3 and under are not required to have a ticket, as long as they remain on a parents lap throughout the program.
How do I get my tickets?
When you purchase tickets, whether Online or over-the-phone, you have the option to have those tickets mailed to you or left in will call. If you ask to have your tickets mailed, they are typically mailed within 36 hours of your purchase. If you choose to leave your tickets in will call, they can picked up any time in the Box Office, which is open Monday – Friday, 9:00 a.m. – 4:00 p.m. The Box Office is open all day on the day of a concert. One hour prior to a show, the will call tickets are moved to the main entrance of the theatre when doors open.
If you purchase tickets Online, the default method of delivery is will call. To receive your tickets, simply choose mail when you check out. There is no additional cost to have your tickets mailed. If you do not live in Ohio, your tickets will automatically be placed in will call.
Why are there ticketing fees?
Ugh. The dreaded topic of ticket fees. We all hate them. But unfortunately they are necessary. When you visit The Midland Theatre and purchase a ticket, there is a fee that is attached to each one. We promise we are not using the money to get rich! There is a $5.00 fee per ticket, plus an additional $2.50 fee per ticket Online. Here we break it down for you:
$2.00 – Historic preservation fee (covers repairs and maintenence of historic building)
$3.00 – Ticket processing fee
$5.00 (Fee per ticket when you purchase over-the-phone or in-person)
$2.50 – Additional INTERNET processing fee
$7.50 (Fee per ticket when you purchase through our website)
How do you determine the date for a concert?
A concert on a Tuesday evening? Really? We know you all think that, but we promise we aren't just trying to make you fall asleep at work the next day. Since we are a small venue, many artists are expensive for us to host. If we book a show on a weeknight as opposed to a weekend, it is typically less expensive. Our goal is to keep ticket prices reasonable for you. In addition, we might only be able to get an artist on an odd night based on the routing for their tour. Plus, we attempt to work around other community events, including Friday Night Football in the fall, professional games, etc. It's complicated. Sometimes an agent might call and say they have a weeknight available – take it or leave it! Would you rather see a famous singer in Newark on a Wednesday or not at all? Making tough decisions is tough!
Concert Policies and Procedures
Do you sell food ad beverages?
By now, most of you have probably had a drink at The Midland and know food and beverages are not permitted in the theatre. This topic has been debated often at the theatre and unquestionably, patrons have asked, "Why can't we enjoy our drinks in our seats?" After weighing the pros and cons (many times), we just cannot justify allowing food and drinks at patrons' seats. We owe it to Dave Longaberger to keep our plush, velvet seats as nice as possible for as long as possible. Plus, we have all sat behind the person who has gotten up 5 times during the concert to go to the bathroom after too many drinks! So, we apologize for the inconvenience, but we really want to respect the beautiful, historic building that was entrusted to our care! We appreciate your understanding.
Can I take photos?
Many of you have nicknamed our ushers the "camera Nazis." We promise, they are just following orders. Although we love social media as much as anyone, some artists are super strict about their photography policies! Believe it or not, they want you to enjoy their music and just watch them sing, as opposed to snapping pictures throughout the concert. Every artist is different and we have to accommodate their demands…er…wishes. We don't mind letting you snap a quick pic of the rock n' roll artist on stage, but many of you don't realize that the light from your phone is seriously annoying the guy seated behind you. Or, you thought you turned your ringer off, but alas it's going off and you are the only one that can't seem to hear it! So, for the sake of attempting to keep everyone happy, we ask that you not take photos when you are at The Midland. If an artist is on stage and says they are OK with it, then by all means comply. Otherwise, video is strictly prohibited for all shows, as well as professional cameras. If you try to snap a quick picture, you might get a tap on the shoulder from one of our ushers. We appreciate you being polite and putting your phone away. Thank you!
Is there an opening act?
When a show is booked and advertised for sale, we don't always know if there is going to be an opening act before the main gig. Each artist has a preference as to whether they want an opening act and/or an intermission. They also have a contracted amount of time that they have to perform (typically it is at least 70 minutes). If we discover there is going to be an opening act, we try to let the patrons know by listing it on the website. The week before the show, we email all of the guests who have purchased tickets with an evening schedule, parking options, restaurants, etc., so please make sure we have your email on file!
Can't you do anything about the volume?
It is extremely disappointing when you having been looking forward to a concert all week, you get to the show, the artist finally comes on stage and it is so loud that you have to cover your ears. That's not what you paid for and it is certainly not making it easy to enjoy the music. No one likes this surprise. Although the Midland has a knowledgeable technical director and hires a sound engineer for the day of a show, the artists bring their own sound technicians with them, and usually their own sound equipment. Our technicians know our venue well – everyone knows the Midland has wonderful acoustics! The artists all have a certain way of doing their shows, however, and contractually it is up to them how they want it to sound. And how loud they want to be heard. We can let an artist know that patrons are complaining about the sound, but they get to decide if they do anything about it or not. It does not seem fair and it is definitely not what we like to tell patrons when they can't bear the noise, but unfortunately it is an industry standard. The artist makes the decision on sound and we just play the host. We have complimentary ear plugs in the Box Office if you ever need to request a pair.
Do you sell merchandise?
We all love our concert t-shirts! Most of the artists that visit The Midland bring along merchandise for patrons to purchase. These merchandise tables are always set up in the Gallery by the bar. This area can get very cramped with patrons, especially during an intermission. Unfortunately, this is the only area that we are able to set up these merchandise tables. Fire code prevents us from setting up tables in the lobby of the main entrance. Our first priority is to keep everyone safe and keep our exits clear! Our second priority is getting you that signed rock n' roll t-shirt.
Do patrons stand or sit during concerts?
To stand or not to stand…that is the question. And the ongoing debate at Midland Theatre concerts. This is definitely our least favorite topic of discussion as Midland staff. Inevitably, the issue arises at a concert that some patrons want to stand to enjoy the concert and others want to sit and they do not want their view obscured. So, what should be done? Both patrons paid the same amount for their tickets. They are enjoying the music in their own way, but someone has to be wrong – don't they?
Other
Can I rent the theatre?
We do offer the theatre up for rental for a variety of events such as weddings, business meetings, corporate events, as well as other private and public events. Rates vary depending on your needs and when you prefer to hold the event. Please contact the Midland Theatre Event Coordinator at eventscoordinator@midlandtheatre.org.
How do I become a volunteer?
We currently have over 170 volunteers that greet patrons, usher people to their seats, bartend and much more. Although not actively seeking volunteers, if you email volunteer@midlandtheatre.org, you can let us know that you are interested for the next time there are openings.
Can I schedule a tour of the theatre?
Please contact The Midland Theatre Box Office to coordinate a time at 740.345.5483.
If you have a question that is not addressed above, please call The Midland Theatre at 740.345.5483.