We are frequently adding great programming, doing ticket giveaways and much more, so stay connected with us!
Without the generosity of The Midland Theatre family and friends, we would not be what we are today. There are a number of ways you can be a part of something very special here at The Midland Theatre.
Kroger Rewards
Kroger will donate to The Midland Theatre every time you use your Kroger Plus Card!
Annual Fund Donation
Become an Annual Fund Member.
Amazon
Shop on Amazon.com using this link and Amazon will make a donation to The Midland Theatre.
The Polar Express
Sponsored by Hopewell Federal Credit Union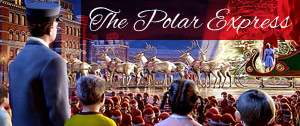 Tom Hanks plays the train conductor of a magical train heading for the North Pole, in addition to five other parts. Based on a storybook written by Chris Van Allsburg, the Christmas story tells of a boy who has reached an age when he begins to have doubts believing in Santa.
Late one Christmas Eve, a young boy is lying awake waiting for the sound of sleigh bells ringing from Santa's sleigh. Five minutes to midnight his room begins to shake, and he hears a thunderous sound outside his window. The boy jumps from his bed and sees a train in the middle of his street. The boy grabs his robe and rushes out the front door to look at the train. The train's conductor asks the boy if he is getting aboard. The boy asks, "Where are you going?' 'To the North Pole, of course, this is the Polar Express!' replies the conductor. At the last minute, the boy jumps on the train and finds other young boys and girls going to the North Pole. Their adventure begins. On the train he meets lots of other children, among them a know-it-all, a clever girl and a poor boy. During the trip to the North Pole, there are several complications before the end of the journey comes. When they reach the north pole, the children meet Santa Claus, and the boy gets the very first Christmas present of the year, a sleigh bell from Santa Claus' sleigh. They return safely to their homes in time for Christmas Day, and the boy finds the Christmas Present from Santa beneath his tree, after which the story concludes.
*Fees may apply