We are frequently adding great programming, doing ticket giveaways and much more, so stay connected with us!
Without the generosity of The Midland Theatre family and friends, we would not be what we are today. There are a number of ways you can be a part of something very special here at The Midland Theatre.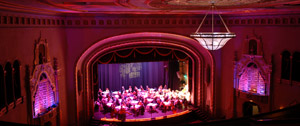 This unprecedented time presents us with so many challenges and we appreciate your patience and support as we navigate these uncharted waters. Needing to adhere to Governor DeWine's mandate on large gatherings, The Midland will be suspending its programming for the foreseeable future with every attempt being made to reschedule the performances.
What does this mean for you?
Hold on to your tickets, as all current tickets will be honored on the rescheduled performance dates.
If you are unable to attend a rescheduled performance you may choose to:
DONATE
Donate your tickets to turn your ticket purchase into a contribution, and the value can be treated as a tax-deductible charitable contribution to The Midland Theatre. We rely on donor support to help us sustain our operations and serve the community. Donor support is even more critical during this time.
EXCHANGE
Exchange your tickets for a credit on your account which can be used for a future Midland performance. Credit on account must be used within 18 months from the date of issue.
If a show is canceled, ticket purchaser may choose to:
DONATE, EXCHANGE or RETURN
Donate, exchange or return your tickets to receive a refund.*
*Refunds will be issued for ticket amounts only. We are not able to refund ticketing fees.
If you have any questions, please contact our Box Office at ticketagent2@midlandtheatre.org or by calling 740.345.5483.