The Show Must Go On! - Postponed
Midland Theatre Fundraiser
Postponed - New Date TBD
Tickets: $100
Tickets call 740.345.5483, Monday thru Friday between 9:00am - 1:00pm
Due to the unique spacing of seats for the event, tickets are only available through our Box Office.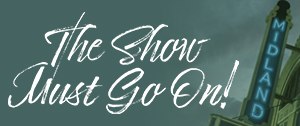 Out of respect for the safety and enjoyment of our guests, volunteers, staff and sponsors, The Midland Theatre Board of Directors and Staff have decided to postpone "The Show Must Go On" originally scheduled to take place on November 5. In light of the recent spike in cases, we felt that it was the best course of action. We have been encouraged beyond measure by the love and support for The Midland Theatre over the past several months, and we are eagerly anticipating the return of live performances. The event will take place on a date yet to be determined. If you have any questions, please feel free to message us on Facebook, email us at yourfriends@midlandtheatre.org or call our Box Office at 740.345.5483.
"The Show Must Go On!" has been our rally cry. We hope you will join us on Thursday, November 5 at 7:00pm and show your support for The Midland Theatre and for the impact we make on our community.
We miss live concerts. We miss the energy and excitement of 1200 excited fans singing along to their favorite songs and the thundering applause of a crowd demanding an encore.
We can't wait to get back to doing what we do best, and that's enriching the lives of our community….everything from rock shows, country concerts, symphony orchestras, school field trips to dance recitals. We were the first to close and will be the last to reopen. 90% of National Independent Venue Association members just like The Midland Theatre do not anticipate reopening if the shutdown continues another six months, but you can make a difference.
We have taken steps to ensure your safety for this exciting evening featuring a performance by the extraordinarily talented Peter Larson, an update on the arts in Licking County, and a live auction featuring a Garage/Driveway Happy Hour with Gary and Julie Baker, Columbus Crew tickets, Bicycle Tour with Jenny Morehead, 1922 Dinner and a Show, Midland Theatre Concert tickets and more!
RSVP TODAY! If you have any questions, please contact Maryann Crist at 740.349.9218 x 5 or maryannc@midlandtheatre.org
Temperatures will be taken, and we kindly request that guests wear masks and practice social distancing.
The Evening's Entertainment
Peter Larson is co-composer of the off-Broadway Musical Brownstone and winner of the 1984 Richard Rogers Award from the American Academy of Arts and Letters. Songs by Mr. Larson have been recorded by Dionne Warwick, Bette Midler, Michael Crawford, Liz Callaway and others. On Broadway Mr. Larson has written dance music (My One and Only, Do Black Patent Leather Shoes Really Reflect Up?), orchestrated (Something's Afoot) and performed as pianist for many shows. Most recently he was Music Director and Arranger for Jolson & Co., off-Broadway. He has toured as pianist and conductor for Chita Rivera, Dionne Warwick, Marni Nixon, and others, and has written several children's musicals, published by Samuel French. Peter lives in Granville, Ohio with his wife, violinist and conductor, Susan Larson.
We are frequently adding great programming, doing ticket giveaways and much more, so stay connected with us!
Without the generosity of The Midland Theatre family and friends, we would not be what we are today. There are a number of ways you can be a part of something very special here at The Midland Theatre.
Kroger Rewards
Kroger will donate to The Midland Theatre every time you use your Kroger Plus Card!
Annual Fund Donation
Become an Annual Fund Member of $100 or more and gain ticket access before the public.
Amazon
Shop on Amazon.com using this link and Amazon will make a donation to The Midland Theatre.